Buy the supreme quality of Pin Bush Coupling from the best-selling Pin Bush Coupling Manufacturer & Supplier — Rajendra Pulley & Gears
Rajendra Pulley & Gears is one of the leading Pin Bush Coupling manufacturer, supplier, exporter, and distributor. Our couplings are of the cushioned drive variety and may transfer torque to the machine input shafts through high-tensile bolts. We provide a large selection of flexible Pin Bush Couplings, which are specially manufactured utilizing premium raw materials. Our selection of Pin Bush Couplings is made to exact specifications and is designed to meet international standards. It is also corrosion- and abrasion-resistant. Small misalignments, tensional vibrations, and shock loads can all be absorbed by them.
The Pin Bush Coupling is made from a protected and durable type of flange coupling. It has pins that act as connecting bolts. We provide our customers with highly regarded high-quality variations. These couplings are created under the direction of skilled professionals. We also test our items against a variety of standards to ensure they are free from flaws.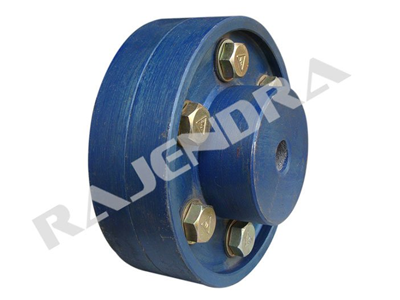 Our goods are in high demand on the market because of their exceptional qualities, including dimensional precision, durability, high strength, lightweight, and ease of installation. Additionally, these pin bush couplings allow for driving in either direction and need no adjustments or lubrication after installation. They are flexible, thus dust, water, and air conditions have little effect on them.
They feature a third shaft, known as the axle, with two flexible joints connecting to it. These two joints are frequently connected to a 1:1 outward or rearward gear pair. They are applicable to engineering and other fields. The complete product line is produced in a number of finish requirements to fulfil a range of demands.
Does not require lubrication

Powerful gearbox

Inexpensive

Simple to install and remove

Driving licenses in either direction

Allows for misalignments

Shock resilience reversed

Untouched by air, water, or other environmental factors.
With years of industry expertise behind us, we build each of our goods with premium components from reputable suppliers. In our cutting-edge production facility, contemporary tools and cutting-edge technologies are employed during the manufacturing process in accordance with industry requirements. We can produce and supply items of the highest caliber thanks to the installation of modern machinery, which leads to an increase in production rate.
Our quality inspection team performs many inspections of the product on different factors, such as smoothness, durability, impact, and long-lastingness, as well as assuring whether or not the product satisfies our industrial quality parameters in order to deliver the greatest quality to clients. Additionally, the division of our manufacturing facilities into several divisions enables efficient, quick, and continuous production.
Being a reputable Pin Bush Coupling Manufacturer, we enable consumers to place free online or telephone orders for these goods. We also provide clients the option to plan in-person meetings or see our production facilities in order to assess our goods and production methods. We work hard to provide technical and online customer care and are supported by renowned engineers and technicians.